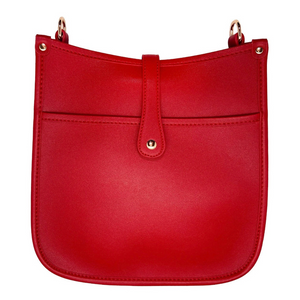 Perfect for the modern and fashion-forward individual who values both functionality and aesthetics, with a bold red color that is sure to turn heads.

This messenger bag is perfect for both casual and formal occasions, making it a versatile addition to your wardrobe. Whether you're going to work, running errands, or heading out on a night out, this bag will elevate your outfit and keep you organized.
The crossbody strap is adjustable in length. There is a large pocket on the outside. Two pouches on the inside: one is zippered and the other is the perfect size for your phone.
- Vegan Faux Leather
-Dimensions H 11.5" X W 12.5" X D 3"